CUAV P9 Radio
---
Summary:
P9 Radio is a new line-of-sight drone data link communication module from CUAV. It features high power, high speed, and high receiver sensitivity, making it ideal for use in drone communications systems.
Features: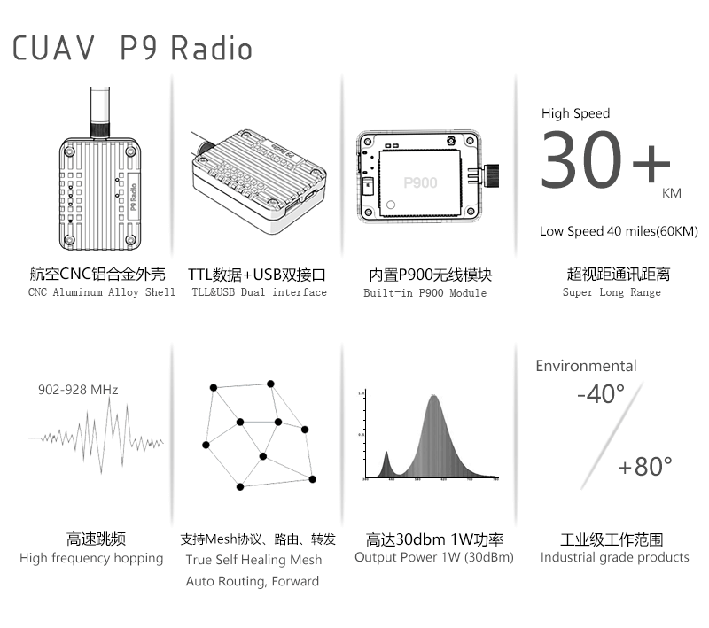 Technical Specifications
working frequency
902-928 MHz
Transmission technology
frequency hopping
Forwarding error detection
Hamming /BCH/Golay/Reed-Solomon
error detecting
Error Detection 32 bits of CRC, ARQ
encrypt
Optional (see –AES option)
range
40 mile ( s ) (60 km)
sensitivity
-110 dBm @ 115.2 kbps
-108 dBm @ 172.8 kbps
-107 dBm @ 230.4 kbps
output power
100mW - 1W (20-30dBm)
serial interface
3.3V CMOS TTL
Baud rate
57600(Changeable)
Airspeed
115 - 276 kbps
operator schema
Mesh, Auto Routing, Store and Forward,Self Healing, Packet Routing Modes
Blocking
+/- 1 MHz > 55 dBc
+/- 2.5 MHz > 60 dBc
+/- 5 MHz > 65 dBc
> 930 MHz > 70 dBc
< 890 MHz > 70 dBc
Remote Diagnostics
Battery Voltage, Temperature, RSSI,Packet Statistics
service voltage
5.0V + -0.25V
Interface current
Sleep < 1mA
Idle 3.5mA
Rx: 35mA to 80mA
Tx : 800mA to 1200mA
Connectors:
Antenna interface
SMA
interface
GH1.25-6P&USB
Environmental
-55℃ ~ +85℃
Weight
51.2MM*38.2MM*15.5MM
Order Option s
-AES
128-bit AES Encryption (requires permit for export outside of Canada and USA.)
-ENC
Enclosed Model
Pinouts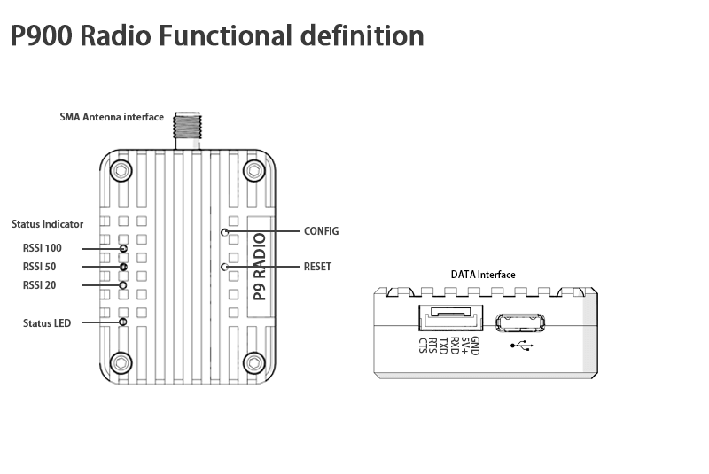 Use Guide
---
Default parameter
The factory link rate default value is 115200, the interface rate is 57600, and the peer broadcast mode.
If you want to modify it, see the Software Configuration Guide.
Connection with Flight Control
PixHack: Radio Interface Plugged into Flight Control
Pixhawk: plug into the flight controller's telem1 or telem2 interface
V5+ : Green connector is connected to V5+, white connector is connected to digital transmissio
Ground station use
In theory, the ground stations of the PIX are compatible. Please select 57600 baud rate when connecting. Note whether the driver is installed correctly and whether the port number is selected.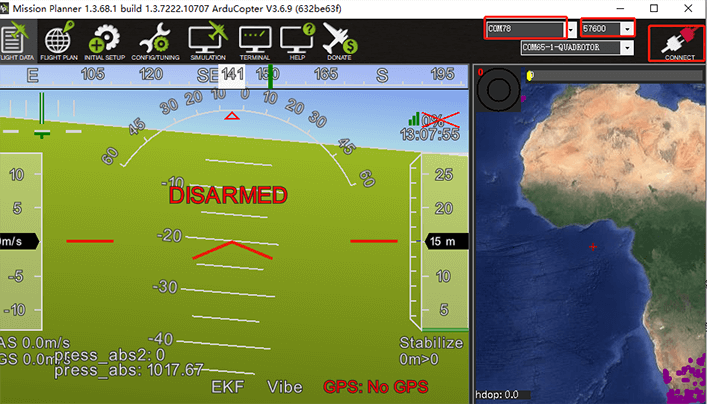 Power Requirements
The ground end must ensure that the usb port supply current is greater than 1A, and it needs independent power supply. If the aircraft end is less than 1A in flight control output, it needs independent power supply.
Apply to other systems
If only the wireless data transmission module is used, please follow the interface definition and the system connection (RX-TX TX-RX GND-GND)
The default standard interface rate is 57600. The required interface baud rate can be changed according to the requirements.