CUAV P9 Radio
---
Summary:
P9 Radio is CUAV's new long-range drone data link communication module. It has high power, high speed and high receiver sensitivity, which is very suitable for UAV communication system.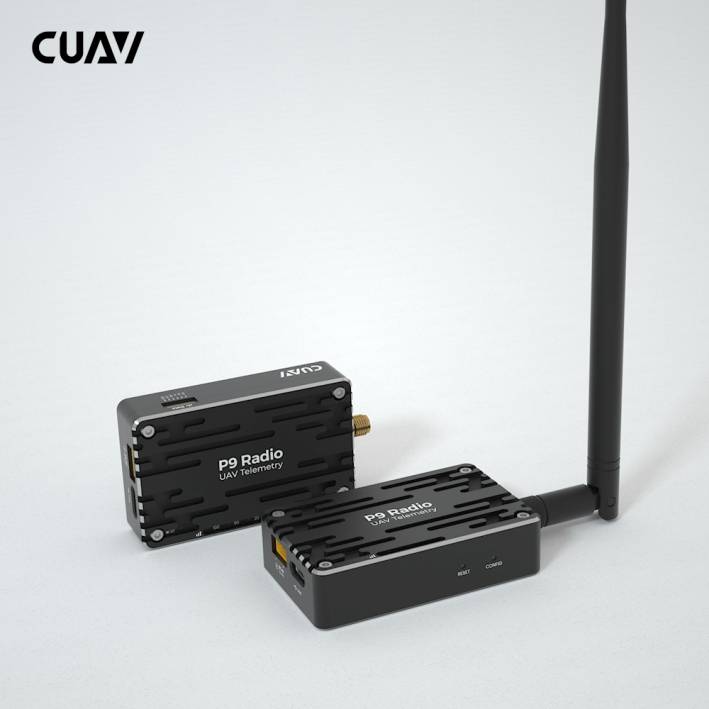 Features:
Up to 60KM long-distance transmission.
Support point-to-point, point-to-multipoint, relay communication and other communication methods.
3~12s wide voltage input.
Aviation CNC aluminum alloy body.
Support high-speed frequency hopping technology, anti-interference.
Technical Specifications
Working frequency
902-928 MHz
Transmission technology
Frequency Hopping
Transfer Protocol
Transparent transmission
Forwarding error detection
Hamming /BCH/Golay/Reed-Solomo
Error detecting
Error Detection 32 bits of CRC, ARQ
Encrypt
Optional (see –AES option)
Range
- Limit distance: 60km (high-gain antenna + unobstructed seaside)
- Reference distance: 40km(The transmission distance is different under different environments/configurations, please refer to actual use)
Sensitivity
-110 dBm @ 115.2 kbps
-108 dBm @ 172.8 kbps
-107 dBm @ 230.4 kbps
Output power
100mW - 1W (20-30dBm)
(Default:1W)
Serial interface
3.3V CMOS TTL
Antenna gain
5DBi
Baud rate
UP to 230.4kbps;
57600(Default)
Link Rate
115 - 276 kbps
Operating Modes
Auto Routing, Store and Forward,Self Healing, Packet Routing Modes
Operating Voltage
12V-60V
Power consumption
Sleep < 1mA
Idle < 3.5mA
RX : 35mA ~ 80mA
TX :800mA ~ 1200mA
Interface
Serial:GHR-06V-S
Antenna:SMA inner needle
USB:TYPE-C
Power:TX30PW-M
Operating temperature
-40℃ ~ +85℃
Humidity
5% ~ 95%(Non-condensing)
Size
5g(No antenna);
Antenna:31g
Weight
65mmx40mmx16.5mm
Purchase
Pinouts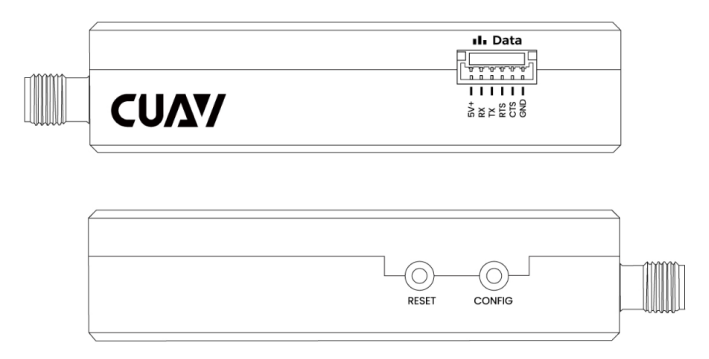 Connection with Flight Control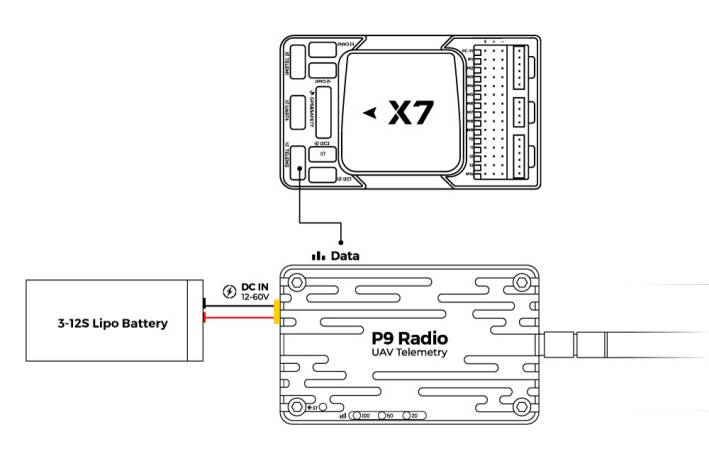 PixHack: Radio Interface Plugged into Flight Control

Pixhawk: plug into the flight controller's telem1 or telem2 interface

V5+/v5 nano/X7/X7 PRO/NORA : Green connector is connected flight controller, white connector is connected to digital transmissio
Ground Station Connection
For Mission planner
Please select 57600 baud rate when connecting. Note whether the driver is installed correctly and whether the port number is selected.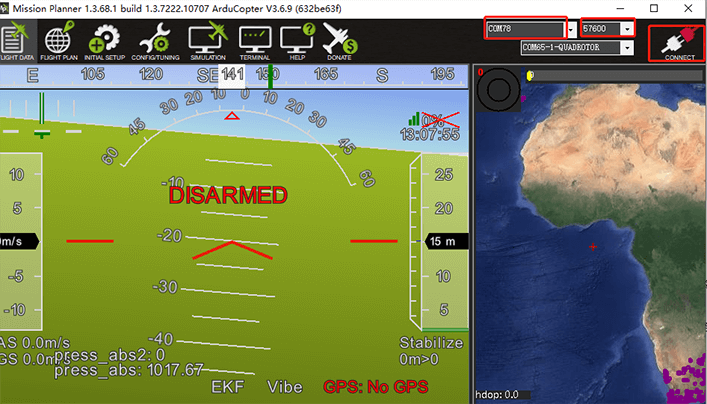 For QGroundcontrol
It should automatically connect after being recognized by QGroundcontrol.
More information