NEO V2 GPS module
---
Overview
Neo v2 is a cost-effective unmanned system positioning and navigation module, which integrates a compass, flight controller status light, buzzer, and safety switch; it has the characteristics of high sensitivity and strong anti-interference.
Product Features
GPS positioning: provide accurate positioning information for unmanned system equipment
Electronic compass: provide accurate heading and attitude information
FC status reminder: circular RGB display flight control status
Alarm function: Provide an alarm when the drone has information that threatens safe flight
Safety protection: Provide physical buttons to avoid accidental motor rotation and protect you and the equipment
Technical Parameters
Key data
Annotate
Processor
STM32F412
Compass
IST8310
GNSS receiver
UBLOX NEO M8N
RGB drive
NC5623C
Buzzer
Passive buzzer
Safety switch
Physical button
GNSS
Beidou、Galileo、 GLONASS、 GPS
GNSS Augmentation System
SBAS:WAAS,EGNOS,MSAS
QZSS:L1s(SAIF)
other:RTCM3.3
Number of concurrent GNSS
2(Default GPS+GLONASS)
Frequency band
GPS:L1C/A
GLONASS:L10F
Beidou:B1I
Galileo:E1B/C
Horizontal accuracy
2.5M
Speed accuracy
0.05M/S
Nav. update rate
10Hz(Max)
Acquisition
Cold start:24S
Hot start:1S
Aided start:2s
Number of satellites(MAX)
22+
Sensitivity
Tracking and nav-167dBm
Cold start -148dBm
Hot star--157dBm
Reacquisition -160dBm
Protocol
UART+IO+I2C
Port TYpe
GHR-10V-S
Supported flight controller
CUAV series,
Pixahwk series
Wave filtering
SAW+LNA+SAW
Anti-Electromagnetic/radio frequency interference
EMI+RFI
Upgrade firmware
support
Support Flight control type
Ardupilot/PX4*(PX4 is still working hard to adapt to the clock)
Input voltage
5V
Operating temperature
-10~70℃
Size
60*60*16MM
Weight
33g
When you connect NEO V2 to other brands of flight controllers (non-CUAV flight controllers), the buzzer will not work. If you need to use other brands of flight controllers, please select NEO V2 Pro.
Size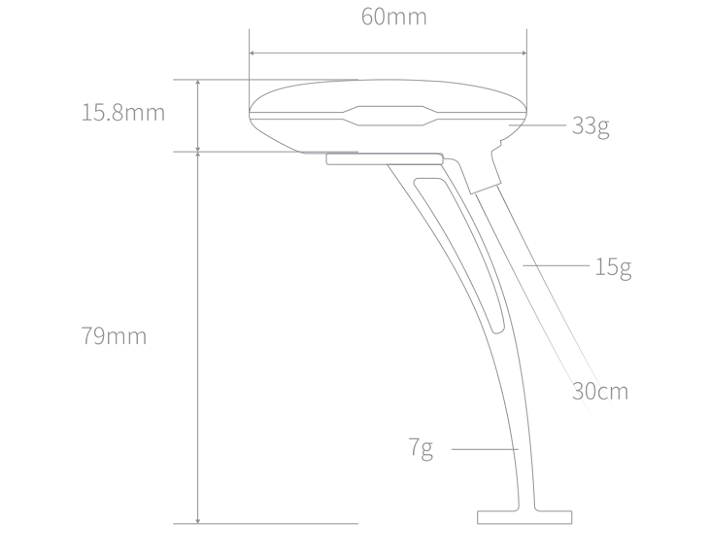 Purchase
connection to V5+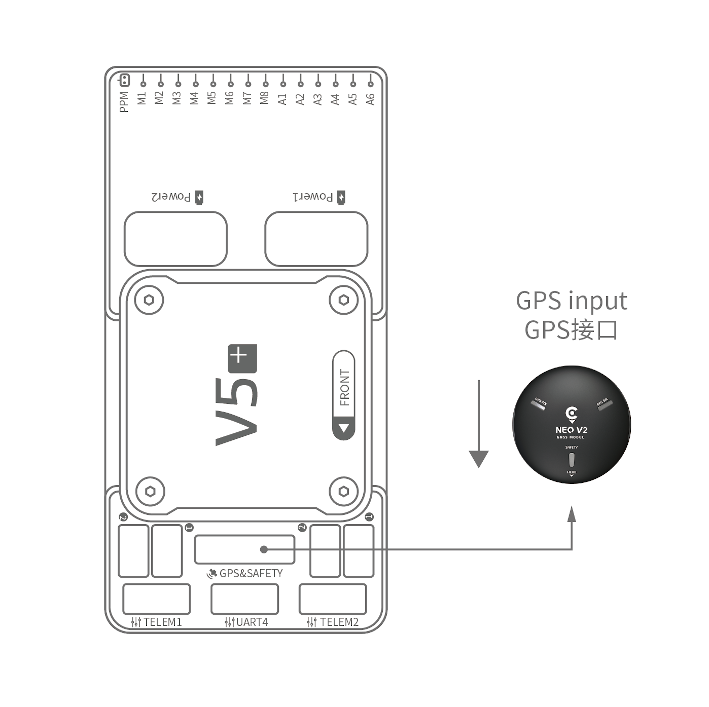 The connection of other PIX flight controllers is the same.
Pinouts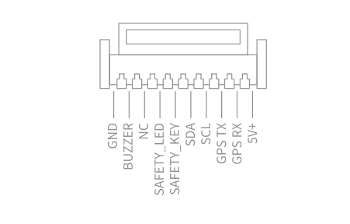 Flight control parameter setting
Neo 3 is a plug-and-play module without parameter settings.